The Cheesiest Cauliflower Cheese Recipes
Cauliflower cheese has always been a family favourite, not just because it tastes great, but because it's also quick, easy and relatively inexpensive to make.
The simplest version involves boiling or steaming the cauliflower; making and pouring over a cheese sauce; topping with grated cheese or breadcrumbs; and baking in the oven. A more classy version calls for the addition of bacon and leeks. But it doesn't stop there because there are also lots of options when it comes to the cheese sauce, depending both on taste and dietary needs. With high fat, low carb gaining popularity worldwide, some people will want to omit the flour and breadcrumbs. Those on low fat diets will want to cut the fat off the bacon.
For me it's the best of both worlds: bring on the bacon and sneak on a few breadcrumbs!
Simple Cauliflower Cheese
This is the one I've made all my life and imagine is based on what my grandmother used to make because I've never needed a recipe.
1 large cauliflower steamed in a covered pot with just enough lightly salted water to cover the stalk at the base

600 ml milk brought just to the boil (you'll see tiny bubbles appearing)

50 g each of butter and flour

about two cups grated cheddar cheese (mature cheddar will give considerably more flavour to the dish)

salt, pepper and a tiny bit of grated nutmeg to taste

paprika
As far as I'm concerned, the secret of a good cauliflower cheese – whichever way you decide to cook it – is to avoid overcooking the cauli. That's why I like to steam it in just enough lightly salted water to cover the bottom stalk. That way the bottom stalk stays soft, but the florets don't go mushy. Put the cooked cauliflower in a round dish that is deep enough to hold the sauce and set aside.
While the cauliflower is cooking make the cheese sauce. Melt the butter in a pot and then stir in the flour. Bring the milk to the boil, take off the heat before it begins to bubble over, and add progressively, no more than a third at a time. I generally take it off the heat while adding the milk and then return to the stove stirring while it thickens. Once it has thickened so that it is still easily pourable, remove from the heat and add about two thirds of the cheese, stirring until it has all melted. Season with salt, pepper and mustard.
Pour the cheese sauce over the cauliflower. Sprinkle with the remaining cheese and a little paprika.
Serve with sausages and a wholesome salad.
Two Cheese Cauliflower Cheese
This dish is very similar to the previous one but richer, with the addition of leeks and bacon, inspired partly by food blogger and friend Jane-Anne Hobbs'
Luxurious Cauliflower Cheese with Bacon and Leeks
, and partly by my own favourite leek and bacon pie that I cook with a blue cheese.
The leeks add a certain sweetness that acts as a foil for what can sometimes be a vaguely pungent cauliflower flavour, while the bacon adds substance, texture and a slightly salty taste. I use English mustard for this cheese sauce because it adds a bit of a bite. I generally use Dijon or whole grain mustard for the pie, and either could be substituted.
First assemble all the ingredients:
2 medium sized cauliflowers, centre stem trimmed and leaves removed

60 ml (4 Tbsp) butter

250 g pack of back bacon, sliced or diced

bunch of medium-sized leeks, thinly sliced

1-2 big

cloves of garlic, peeled and crushed

bay leaf

5 ml (1 tsp) dried thyme

100 ml flour

125 ml (½ cup) dry white wine

750 ml milk or cream
15 ml (1Tbsp) dry English mustard
15 ml (1 Tbsp) lemon juice
375 g (

1½ cups) grated Cheddar cheese

125 g (

½ cup) grated Pecorino or Parmesan

125 ml (

½ cup) thin cream

salt, coarsely ground black pepper and grated nutmeg to taste

about 250 ml (1 cup) very fine breadcrumbs lightly friend in a hefty lump of butter and a handful of grated cheese; cayenne pepper

Cook the cauliflower as described in the previous recipe. I prefer smaller vegetables because the stem of larger cauliflowers takes longer to cook, and unless you discard most of the stem, the florets will be in danger of becoming overcooked. Drain and place in a suitable dish, dividing each one into four so the base of the

dish is

covered. This way the sauce and bits of bacon will be evenly distributed.
Slice the leeks and bacon, then melt the butter in a frying pan and add the bacon pieces. Cook over a medium to low heat so that the bacon doesn't get crisp. Add the crushed garlic and sliced leeks, along with the herbs. Continue to cook over a low heat so the leeks sweat and soften. Add the wine, bring quickly to the boil, and then simmer for about five minutes until the liquid evaporates. Stir the flour into the pan and add the milk in about three batches. Continue stirring while the sauce thickens; then add the mustard and lemon juice, and most of the cheese (keep a handful for the topping).
Season to taste and pour over the cauliflower.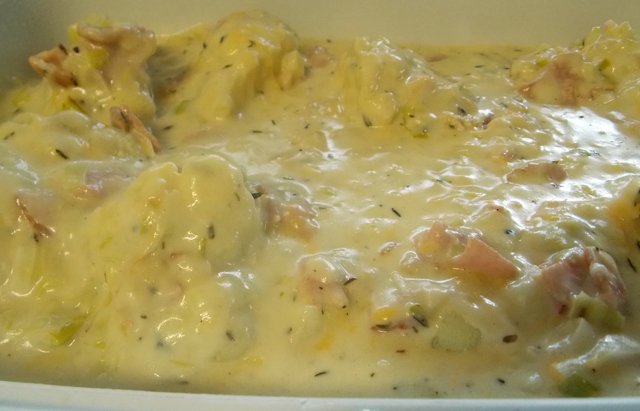 If you're going to top with breadcrumbs, fry them quickly in melted butter to coat. A cup of breadcrumbs will cover the top of the dish. Finally top with the remaining cheese and sprinkle with cayenne pepper. Bake in an oven preheated to 180 °C (350
°F) for 15 to 20 minutes.
Serve with a simple salad and a glass of cold white wine.
If you're on a low carb diet, you can substitute the white sauce with a traditional Alfredo sauce made with cream, butter and Parmesan cheese (or Pecorino). Alternatively, try Jane-Anne's Low-Carb Double-Cauliflower Cheese –

perhaps with the addition of leeks and bacon.