Having grown up in a home where my British-South African grandmother was queen of the kitchen, meatballs were just an ordinary dish – tasty, but ordinary. And they weren't on the menu very often. I don't cook them often either, unless they are part of a themed dish of some sort, in this instance Thai, largely because they do take more effort than other dishes that can be equally delicious.
I was introduced to these meatballs by a friend who visited Thailand several years ago and attended a basic cooking course. Preparation is surprisingly simple, though rolling the balls is undoubtedly time consuming. Fluffy jasmine coconut rice and a flavorful peanut sauce add a dimension that my gran's homemade meatballs could never begin to touch.
Fragrant Thai Meatballs
To make the meatballs, combine:
450-500 g (about 1 lb) minced beef
15 ml (1 Tbsp) freshly chopped garlic
1 stalk lemon grass finely chopped (discard the tough outer layers before chopping)
 4 spring onions finely chopped
15 ml (1 Tbsp) chopped coriander
30 mll (2 Tbsp) red Thai curry paste
15 ml (1 Tbsp) lemon juice
15 ml (1 Tbsp) fish sauce
1 egg
salt and freshly ground black pepper to taste
You will also need:
rice flour to dust over the meatballs prior to cooking
oil for frying – the type you use is your choice, my recommendation is coconut oil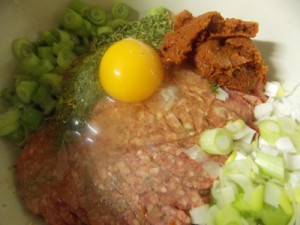 I wash my hands thoroughly and then use my fists and fingers to ensure that the mix is properly blended, but still has texture. Roll and shape the meat into fairly small balls. This quantity of meat should produce about 30 meatballs. You can make them smaller if you wish, in which case you'll produce a larger quantity. Put them on a plate and pop into the refrigerator while you make the peanut sauce. Like hamburgers (or beef burgers), cooling them effectively stops them from falling apart when you cook them.
Once the sauce is on its way, shake a little rice flour over the meatballs and then fry them in oil until brown. Don't be tempted to use wheat flour; if you don't have or can't find rice flour, there are other options. Apart from its dubious dietary value, wheat flour won't do the meatballs any justice. I've successfully used chana dal flour (made from chickpeas), but explore your options. If you're on a no-carb diet, just fry the balls without using flour of any kind.
Then there's the issue of oil. I confess that I cooked these in sunflower oil, even though I'm trying to avoid it. I'm sure that coconut oil would be better, as would light-frying the meatballs, rather than deep-frying them. However you decide to fry them, do so in batches and remove to absorbent paper towel or newspaper to drain thoroughly.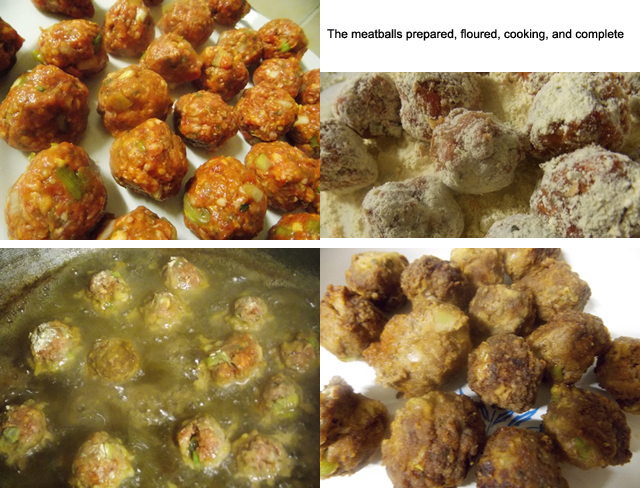 Coconut Rice
A relatively rich rice dish, as rice goes, made with coconut milk and garnished with shredded coconut, Coconut Rice is deliciously different.
You'll need:
500 g (2 cups) jasmine rice washed with cold water and drained in a sieve
250 ml (1 cup) cold water
500 ml (2 cups) coconut milk
2.5 ml (1/2 tsp) salt
30 ml (2 Tbsp) granulated brown sugar or grated palm sugar
shredded coconut to garnish (optional)
Put the water, coconut milk, salt and sugar in a pot with the rice. Cover and bring to the boil. Reduce heat to low and allow to simmer for about 20 minutes until the rice is soft and cooked. Turn off the heat and allow it to rest on the stove for a further five to ten minutes. Fluff up with chopsticks or  fork before serving.
Peanut Sauce
This must rank as one of the easiest, yummiest sauces I have ever mastered. It is also a sauce that can be teamed up with many other basic meat dishes.
You can make the sauce early on and then let it simmer quietly on the side while you prepare, make and cook the meatballs and coconut rice. It really is quick and easy. Just one word of advice; while peanut butter is a relatively unprocessed food, it is not made equal. Avoid peanut butter with added sugar and trans fats, and ideally only buy organic products.
Here's what you need for the sauce:
15 ml (1 Tbsp) oil (preferably coconut oil) heated in a small pan
15 ml (1 Tbsp) Red Thai curry paste – bought or homemade – fried for a couple of minutes in the hot oil
30 ml (2 Tbsp) crunchy peanut butter
15 ml (1 Tbsp) palm sugar
15 ml (1 Tbsp) lemon juice (preferably freshly squeezed)
250 ml (1 cup) coconut milk
Add the peanut butter, palm sugar, lemon juice and coconut milk to the curry paste and bring to the boil. Lower the heat and allow to simmer gently until the sauce thickens.
Serve separately in small bowls or poured over the rice and meatballs.