Woks and Pans for Easy Cooking
It all began when I posted an ad in our local Buy & Sell Somerset West Facebook group late last year (2014) stating that I was looking for a secondhand stainless steel wok. I had been going through a lots-of-Thai-food-cooking phase and my woks (two very basic, so-called, non-stick things) were looking a little worse for wear, and the food was tending to stick. However, my main concern was that because the coatings on them had worn off, after each wash the upper surface became covered with a very thin layer of rust. Okay, so "iron" is supposedly good for you, but this wasn't kosher at all. And since the once bought-new stainless steel pots and pans I picked up for a song at Cash Crusaders had been going strong for at least eight years, it seemed like a no-brainer to get a stainless steel wok.
I can't remember exactly how the scenario played out, but it started with someone in the group offering to sell me a top quality plug-in electric wok – definitely not what I was after. Then there were a couple of offers of high quality non-stick, very expensive (even though they were secondhand) Bauer cookware. Also not what I wanted. Not long after this, Willem Huisamen from  Sola Cookware SA said I should be looking at his Green Cooking products. After some online banter – and a little more serious offline discussions – I agreed to review some of the cookware items he imports from Holland and sells throughout South Africa.
At this point I need to emphasize that he has made no attempt to influence my reviews in any way. I must also stress that when I agreed to what I call the Sola Cookware Challenge, I was not convinced by any of his arguments that Sola products were superior, and I was still hankering after a stainless steel wok. But it didn't take long for me to change my mind 360 degrees.
Before launching into my "review", I feel the need to introduce my stainless steel pots and pans, because they served me for nearly a decade.
My Stainless Steel Pots and Pans
The Sola Cookware Green Cooking wok and large pans, and my stainless steel pots and pans, have a few things in common – most obviously they are all manufactured for cooking food. Also they are both made of metal and they have glass lids. But that's the end of it.
I concede right now that Sola's Green Cooking range beats stainless ordinaire hands down.
The company also imports a rather more upmarket range of stainless steel pots sets than mine, but that is not part of the equation, because they don't offer a wok!
Now, having said that my trusty stainless steel set of saucepan and pots served me for more than a decade, I have to admit that this is not entirely true. Bought as a nine-piece (which of course includes the glass lids), it is now down to eight, with one piece scarcely worth its spot in the kitchen cupboard.
My first stainless steel casualty was the pot that was the same diameter as the frying pan and I used it almost every day. Sadly it "died" about four years ago when a pinhole developed in the side of the pan. After my son tried, unsuccessfully, to spot-weld the hole to fix it, I sent the pot off with our weekly recycling.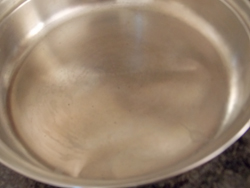 The second casualty was the frying pan, which while basically usable, now causes food to stick, simply because the two layers of laminated metal have come apart. Ironically, that only happened a few weeks ago, well after Willem's initial challenge. Now it really is sadly buckled and bent (as you can see from the photograph), and very close to making it into a recycling bag.
The Sola Challenge …With its Woks and Pans
While I was really only looking for an old but still usable wok, Willem Hulsamen was determined to prove a point. So along with a 36 cm Green Cooking wok, he also asked me to try cooking with the Sola 32 cm paella pan and a 28 cm (85 mm-deep) pan. Not long afterwards, he suggested I also experiment with two smaller pans, which I have done. All are part of the undoubtedly popular Green Cookware range.
For the past two months I have recorded my cooking escapade photographically and in words, and intend to share the recipes and largely step-by-step instructions in my own mini Come Dine With Me on this website.
Features of Sola Green Cookware
According to the company's promotional material, Sola's Green Cooking range of cookware is manufactured from forged aluminum and finished with a ceramic coating that is considerably stronger and therefore much more scratch resistant than other more common so-called non-stick coatings.
However, the company does warn on the packaging that sharp metal utensils will scratch the non-stick coating and recommend using anything that won't scratch, including wood and various "plastics."
The coating is made from eco-friendly materials, and is PFTE and POFA free. So here's some detail about what this all means.
The Implications of PFTE and POFA in Cookware Coatings
PFTE stands for polytetrafluoroethylene, a synthetic compound that is commonly used as a non-stick coating for cookware. The best-known brand name linked to PTFE is Teflon, a formulation made by the DuPont Company since the 1940s. While the American Cancer Society states categorically that "Teflon itself is not suspected of causing cancer,"  it does warn of dangers, specifically the fact that deadly fumes are released when this cookware is overheated. People have reported getting flu-like symptoms as a result of heating Teflon to high temperatures, and birds are known to have died from the fumes. DuPont even released a brochure warning that the fumes from Teflon can kill a bird in just a few minutes. That is a chilling admission and one that makes me very happy not to be cooking with anything that contains PFTE.
PFOA, which is perfluorooctanoic acid and also referred to as C8, is, like PFTE, a manmade chemical, but it burns off during the manufacture of Teflon, and is therefore considered to be an insignificant factor in non-stick coatings. However, it is a very real health concern, particularly in the USA because it remains in the blood of people who are exposed to it, and is considered to increase the risk of tumors in animals. Even more scary is the fact that, as the American Cancer Society confirms, the long-term effects of PFOA are "largely unknown."
The Netherlands-based manufacturers of Sola state that their non-PFTE/PFOA coating can be heated up to 400 deg F or 200 deg C. However they warn that one should never heat up an empty pan, and one should avoid very hot temperatures when cooking as this could cause the food to stick.
They also warn that the handles of the wok and pans will be damaged if the cookware is used over an open fire, and it will tend to smoke if the temperature is too high. Ultimately, very high temperatures may damage the non-stick coating.
I don't have a means of checking the heat of woks, pots and pans I cook in, but there's a good chance I've cooked at temperatures exceeding 200 deg C, and I can safely say that I have not had any problems with food sticking to the wok or any of the pans. I'm guessing that their warning is on the conservative side, just to be sure to cover their backsides if somebody does manage to cause damage. After all, all products in the Green Cooking range carry a lifetime warranty on workmanship and materials.
Cooking With Sola's Green Cooking Woks and Pans
Thumbs up all round.
I love the wok and I love the pans – all of them. I've used at least one of them most days since Willem initiated the challenge, and have recorded all food cooked.
As already stated, this means I have recipes and step-by-step pix that I will be sharing on this website with anyone interested over the next few months.
I've chosen to cook lots of old family favourites as well as new recipes, including some of the currently "hot" Real Meal Revolution recipes featured in the Tim Noakes book that is rocking South Africa. Some of these will be presented as recipe reviews.
There is only one vaguely negative comment I want to make, and that is that the handles of the Sola wok and paella pan tend to get hot. I know it sounds like another no-brainer, but in spite of my usual common sense, I did manage to burn my fingers once. Of course the pans with longer handles don't have this problem at all, and oven gloves work perfectly for the hot bits.
Cleaning Sola Cookware
I loathe washing dishes, but can truthfully say that cleaning the Green Cooking Sola Cookware is not an issue. Wipe excess food off; soak in warm soapy Sunlight water; rinse with cold water; dry; and voila. I don't even bother to dry!
Of course like any decent cookware, it may be used in a dish washer, but it's so quick and easy to clean, I haven't bothered yet.