Two Instant Curries Suitable for a GL Diet
While the word "curry" is a hugely oversimplified term for what is in fact an ancient Indian cuisine, I use it here because these recipes are quick, easy and certainly don't follow the true tradition of genuine Indian food. But both are delicious and suitable for the popular GL diet promoted by British nutrition guru, Patrick Holford.
The two recipes featured here are based on recipes from Holford's Low GL-Diet Cookbook. They may be served separately or together, with brown rice, quinoa, green vegetables, or with a healthy salad.
The Holford Low-GL Diet
While good nutrition and good health are subjects for all kinds of debate, this post is not promoting one diet above another. Having said that, I tried the Low Glycemic Load (GL) diet about six years ago and it worked. Recognising that it is more than a diet and, like many others, a way of eating rather than a crash plan to lose weight, I eventually gave it up for two reasons:
Many of the ingredients specified as low GL were expensive; including things like berries; oily cold water fish like mackerel, trout and salmon; and coconut oil for cooking (although the price of the latter has more than halved in the past couple of years due to its increasing popularity)
I struggled to eat five small meals/snacks a day, not for hunger reasons, but rather because my lifestyle made it difficult in terms of preparation
In a nutshell, The Holford Low-GL Diet is based on the Glycemic Load (which is different to the better known Glycemic Index) of foods in terms of what they do to your blood sugar, and consequently to your energy levels, and ultimately your weight. Ensuring you eat a maximum of 40 GLs a day (10 per main meal and five per snack), the weight should drop. Other factors include:
Mixing protein with low-GL carbs to stabilize blood sugar, banish food cravings, and stave off hunger pangs
Eating essential good fats and avoiding harmful saturated and processed fats
Cutting out refined carbohydrates including sugar
Avoiding common "allergy foods" like wheat and dairy
Spreading the consumption of GLs through the day by eating smaller amounts more regularly
Cooking Quick and Easy Instant Curries
You will need a wok or large frying pan for both of the instant curries featured. I used the 36 cm Sola Green Cooking wok as well as the 28 cm (85 mm-deep) Sola pan, both of which are heroes of my currently ongoing Sola Cookware Challenge. 
Chicken Curry
A recipe that is gluten-, wheat-, dairy-, and yeast-free, this chicken curry has only about 3 GL per serving. You can make up the other 7 GLs allowed for main dishes by eating a very small (no more than 25 g – dry weight) of brown basmati rice or about 35 g of quinoa.
While there is evidence of some typical Indian spices, the coconut milk smacks more of a Thai curry. However it really isn't either, but rather a slightly spicy and very delicious, if nebulous dish.
Ingredients for four servings are:
2 tbsp coconut or virgin olive oil
4 chicken breasts, skinned and sliced into strips
2 tsp ground cumin
1 tsp turmeric
6-8 cloves of garlic (the bigger the better), peeled and crushed
2 red chillies, chopped (and seeded if you can't take the heat)
4 medium sized onions, peeled and chopped
2 stock cubes or 4 tsp stock powder
250 ml (no more than a cup) water
410 g (one can) coconut milk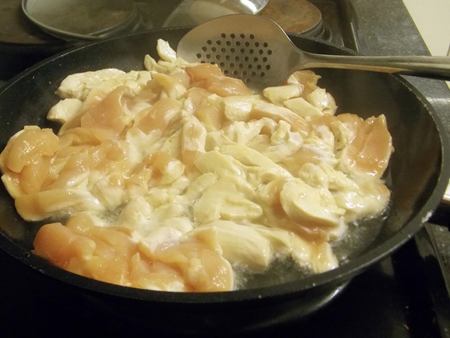 Start by heating the oil in a suitable wok or frying pan.
Stir fry the chicken strips over a fairly high heat until the change colour.
Remove the chicken from they wok or pan and place on a plate or in a dish for later.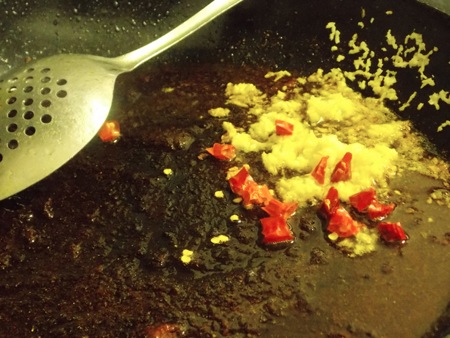 Now fry the ground cumin and turmeric for a few minutes in the same wok or pan. Be careful the spices don't burn.
When the spices have browned, add the crushed garlic and chopped chillies. Stir to blend with the spices as they cook.
Add the onion to the pan, turn down the heat and allow it to cook slowly until soft. The onion shouldn't brown, though it will turn a lovely golden colour due to the turmeric.
Stir from time to time.
Stir in the stock cubes or powder, water and coconut milk.
Put the chicken back into the pan and allow to simmer until fully cooked – no more than 20 to 30 minutes.
Chick Pea Curry
This curry takes even less time than the chicken curry, and it contain about 7 GL per serving. Like the chicken curry, it is gluten-, wheat-, dairy-, and yeast-free. The ground almonds thickens the sauce and give it a lovely nutty flavour.
Ingredients for four servings are:
2 tbsp coconut or virgin olive oil
4 cloves of garlic, peeled and crushed
2 medium sized onions, peeled and roughly chopped or diced
1 heaped tbsp curry powder (you decide on the heat intensity according to your own tastes)
500 ml water
2 stock cubes or 4 tsp stock powder
4 tbsp tomato puree
2 x 410 g cans of chickpeas, drained and rinsed
4 tbsp ground almonds
Heat the oil in a large pan or good quality wok. Then fry the onion and garlic together over a fairly low heat for a few minutes until the mixture is soft and slightly golden. You don't want it to brown.
Add the curry powder to the onion mixture and continue to cook for a few more minutes.
The colour of the curry powder will depend on intensity (the redder it is the more cayenne pepper it probably contains), as well as on the brand chosen.
Then add the water, stock and tomato puree. Stir.
Last of all, throw in the drained chickpeas and the ground almonds.
Bring to a gentle simmer and allow to thicken over a low heat. Stir from time to time.
References and further reading (click on the links to buy your own copy):
The Holford Low-GL Diet Made Easy by Patrick Holford. Piatkus Books Ltd, London 2006
The Holford Low GL Diet: Lose Fat Fast Using the Revolutionary Fatburner System by Patrick Holford
The Holford Low-GL Diet Cookbook by Patrick Holford and Fiona McDonald Joyce. Piatkus Books Ltd, London 2005
The Holford Low-GL Diet Cookbook: Recipes for Weight Loss, Health and Energy by Patrick Holford and Fiona McDonald Joyce
Burn Fat Fast: The Alternate-Day Low-GL Diet Plan by Patrick Holford and Kate Staples 
The 10 Secrets of Healthy Ageing: How to Live Longer, Look Younger and Feel Great
by Patrick Holford and Jerome Burne
The Feel Good Factor: 10 Proven Ways to Boost Your Mood and Motivate Yourself
by Patrick Holford
Food is Better Medicine Than Drugs: Your prescription for drug-free health by Patrick Holford and Jerome Burne. Piatkus Books Ltd, London 2006
The Holford Diet GL Counter by Patrick Holford. Piatkus Books Ltd, London 2006
The 10 Secrets of 100% Health Cookbook: Simple and Delicious Recipes for Optimum Health by Patrick Holford and Fiona McDonald Joyce. Piatkus Books Ltd, London 2012
The Stress Cure: How to Resolve Stress, Build Resilience and Boost Your Energy by Patrick Holford and Susannah Lawson