Spanish Paella on a Shoestring
Spain is one of my favourite countries, and one where I didn't ever go hungry, in spite of travelling on a shoestring. Needless to say, paella had its day – washed down with sangria.
Those were the days when you could get by on R10 a day (rands – not US dollars; I had Europe on $5 a Day tucked into my suitcase which should have been a backpack) if you really tried. That was long ago; and I was "roughing" it, except when it came to food.
Having said that, there really aren't a lot of traditional Spanish dishes that I wanted to write home about. Paella was one, and gazpacho another. Mind you, I tasted calamari for the first time while in Spain, and did write home about the experience – but it wasn't good in any sense of the word.
I ate squid at lunchtime today and found them more like rubber bands than fish.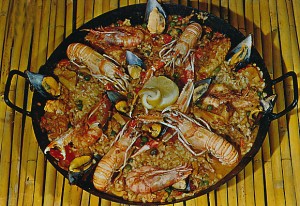 Sadly I've never had the opportunity to visit Spain again, but I have had the opportunity to experiment with different types of paella, which vary quite considerably, depending largely on the region of origin. And when I was challenged recently by Sola Cookware's Willem Huisamen to try his Green Cooking range of cookware, including the 32 cm lidded paella pan, the obvious first dish to cook was paella.
So paella it was going to be. But not wanting to go totally overboard with expensive ingredients, I decided to scale down and leave out things like mussels, saffron, and crayfish. I could have abandoned the prawns as well, but then it would have been a disappointing rendition. Which is why I say it is paella on a shoestring (kind of).
The recipe given here is based on a traditional Paella Valenciana, bearing in mind that I love to use proven recipes, but seldom stick to them. So there is nothing purist about it; but I can promise it's delicious.
Ingredients for about 8 people
2 large white onions, peeled and roughly chopped
at least four big cloves of garlic, peeled and roughly chopped
500 g (about 1 lb) raw chicken off the bone, cut into cubes
4 tbsp coconut oil (you could also use olive oil)
3 large tomatoes, chopped (I never bother to peel them)
100g (4 oz) fresh (if you can find them – or if you grow them) or frozen peas
500 g (1 lb) long grain rice (I tend to use white)
Pinch saffron (optional)
1 litre (1 3/4 pt) chicken stock (I use good quality stock cubes)
Salt and ground black pepper to taste
100 g (4 oz) frozen haddock, diced (cod fillets would also work well)
1 large red pepper, deseeded and sliced into strips
Cooked prawns to garnish (buy what you can afford and xxxxxxx
Mussels, cooked (optional)
How to Make Your Spanish Paella 
Start by heating the coconut oil in the paella pan. Coconut oil is quite strange if you haven't used it before … and its liquidity depends on the weather. On a cold day you will have to dig it out of the container like lard; on a hot, sunny day you will be able to pour it like any other typical cooking oil.
Once the oil has melted and is transparent in the pan, add the chopped onions and garlic and cook for a few minutes until the onion is translucent. Don't let it brown – and certainly don't let it burn.
Then add the chopped chicken. Let it all simmer over a medium heat until the chicken changes colour and looks white. You don't want it to cook right through because it will dry out and become tough, so stir it now and then to speed up the process.
While you are waiting for the chicken to cook, chop the tomatoes, and weigh out the peas and rice. If you are using frozen peas it's a good idea to run them under warm water to get rid of any ice. You don't need to defrost them totally otherwise they might become slushy.
Now add the tomatoes, peas and rice to the pan and stir. If your budget can stretch to saffron, add that now too. Don't be tempted to add turmeric for colour; it will change the flavour.
Now add the stock. I generally add at least two stock cubes or bought stock jelly (marketed as stock pots), stir them in and add water over the top. You can also add seasoning (salt and pepper) now, or you can adjust the seasoning at the end. I am careful with salt, but quite often find that as a result I tend to under season food during the cooking process.
Preheat the oven to 220 deg C (425 deg F).
Cover the paella pan (or whatever pan you are using) and allow the chicken, rice and vegetables to simmer for about 20 minutes. Be sure that at least three-quarters of the liquid has been absorbed into the rice.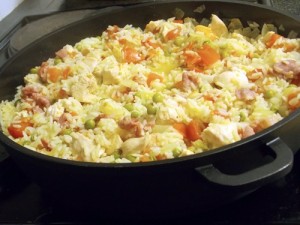 Remove the lid and add the fish pieces. Garnish with the sliced red pepper, prawns, and (if you are using them) the mussels.
Cover the pan with foil, shiny side inwards (or underneath) and pop the pan into the preheated oven for about 10 minutes.
Uncover and serve with salad and white wine straight away.
Cheers!