My personal tradition is to spend Christmas in the kitchen … it seems. This was Christmas 2011 and not much has changed.

---
The Joys of Christmas in the Southern Hemisphere
Christmas is a special time; there's no getting away from this. But as one gets older, for many it loses it's magic. And I have to look out of the box of Christianity here, as well as ignoring the concept of Santa Claus.
Happily there is something that lives on, and that is the sharing of food. Whether you believe in Christ or Father Christmas – or neither – food in the form of a good Christmas dinner is what often brings people together. Real soul food.
But there's a big but here – in the form of a skewed ball that affects anyone who lives in the southern hemisphere. Traditionally – if you are gullible and believe everything you read (particularly on the Internet) – Christmas dinner must be hot and heartwarming. That is even if it doesn't snow where you live. For those in that other hemisphere (which isn't mine), Christmas is a kind of winter sport!
"SA shops get it wrong every year. Christmas season isn't about snow flakes and cold weather. It's about summer braais and beach parties." JERM, contemporary cartoonist.
My Christmas Dinners in the Southern Hemisphere
For me Christmas dinner is different not only to the usual dinner, but also to most people's Christmas dinners – I think.
In South Africa lots of people braai (or barbecue) on Christmas day. I don't. I won't. Well that's not entirely true, because a kettle braai is one of the best appliances for cooking Christmas dinner. But my Christmas dinner will never become a vleis (meat) and pap (porridge) meal.
While I love to have meat, including roast turkey (or even just chicken) and gammon on my Christmas menu, the focus for me is salad. Yes salad. But not just lettuce, tomato and all the other bits and pieces that make a regular through-the-year salad special – like olives, feta cheese, or blanched mangetout peas and baby corn. No. Christmas salad MUST be special. It's going to cost more and take more effort to prepare, but I promise you it will be worth it in the long run.
What Makes My Christmas Salad Special
I need to start with a confession. Apart from a few seasonal ingredients (mostly southern hemisphere things like asparagus), and of course the extra effort, there really isn't much more to Christmas salads than those I make any other day of the week, or month of the year! It really isn't difficult to make salads special all year round. Over the years I have accumulated recipes that I really savor and love making; and when I put in that extra effort, it's my own Christmas present to myself all year round.
There's nothing much more rewarding than genuine compliments from people who clearly enjoy the food I have produced.
Christmas Menu 2013
First of all no simple lettuce, tomato and onion salads are ever allowed. They are a complete turn-off. Coleslaw could work, but it's too commonplace in my house. Potato salad? No, not this year; not even roast potatoes.
This is what was on the menu for Christmas dinner this year:
Oven-baked gammon glazed with honey
Roast kettle-braai turkey with homemade bread stuffing
Red and yellow pepper rice salad
Mangetout and new potato salad
Leeks in blue-cheese dressing
Rocket and mushroom with herbs
Avocado and mangetout vinaigrette
Garlic baguettes
Lemon tart and vanilla ice cream
…all with a sprinkling of family and friends.
Oven-baked Gammon
Nowadays you normally have an option between ready-cooked gammon, or you can buy a smoked joint and cook it yourself.
Mine weighed 4.414 kg, and because it needed to cook for 30 minutes per 500 g – plus a further 25 minutes – I had to allow a good nine hours cooking time. Since I also needed the oven to char-grill peppers for the rice salad (see below), this had to be done before I could start the gammon.
To cook gammon in the oven, preheat to 160 °C, then place the joint in a baking tray along with one peeled and halved onion, three sticks of celery, three carrots, a few bay leaves, a handful of black peppercorns and about six cloves. Add about two litres of water, cover with tinfoil (shiny side inwards), and place in the centre of the preheated oven.
To glaze, brush with honey before cooking for the last 25 minutes – just watch that it doesn't burn.
Roast Kettle-Braai Turkey
First prepare the bread stuffing.
Ideally the bread should be stale because it's easier to crumble in a blender. But I used a day-old loaf of brown bread, excluding the outside crusts (about 340 g), crumbed and transferred to a bowl. Add about 85 g melted butter and a nice big onion, peeled and chopped, as well as a heaped tablespoon of dried sage and salt and pepper to taste. Beat three eggs lightly with a fork and mix into the breadcrumb mixture. If it is too dry you can add a little water or stock. Stuff the turkey. Yes you have to!
About an hour before you want to start cooking, light the coals in the Weber. Because an indirect method of cooking is recommended for roasts, you need to ensure that the coals are positioned around the outside of the inside of the kettle. This method relies on reflected heat; to minimize flames, place a drip tray or foil container in the centre of the kettle to catch juices and fat that drips while the turkey is cooking.
Most of the turkeys you'll find in quality supermarkets like Woolworths, Pick 'n Pay, Checkers or Spar are self-basting and self-timing. This makes the cooking process very easy. They are also sold frozen, so you need to take the defrosting time into account. Mine was 4 kg and took about 42 hours to defrost slowly in the fridge.
When the coals are glowing and hot, put the grid into the kettle-braai; sprinkle the turkey with a good quality chicken or barbecue spice and position it in the centre, on the grid. Open the vents in the lid and cover to ensure that the heat is more evenly distributed. Note that the vents should be positioned downwind.
Cooking time depends on the weight of the turkey. Allow 45 minutes per kilogram.
Red and Yellow Pepper Rice Salad
Since you need vinaigrette for this recipe and for several other salads, make a large batch and decant as you need it.
Mix 300 ml extra virgin olive oil with 60 ml of white wine vinegar, four teaspoons of Dijon mustard, a heaped teaspoon of dried tarragon, and salt and freshly ground black pepper to taste. Beat with a fork before pouring into a screw-top jar. Here the olive oil and vinegar are mixed in a ratio of about 5:1, which is perfect for delicately flavoured lettuce and leeks. If you want to use it over more strongly flavored green salads or root vegetables, use slightly less oil.
Pour 100 ml of the vinaigrette into a bowl and add a nice big pinch of garum masala. Stir and leave to infuse.
This is a delightfully sunny summer salad that is surprisingly easy to prepare. Grilling the peppers gives them a delicious, slightly sweet flavour.
Heat the grill of your oven and place the peppers in a baking tray close to the grill. Keep turning them until the skins blacken all over. Remove and allow to cool. When they are cool enough to handle, remove the blackened skin. Remove the seeds and chop the flesh.
In the meantime measure and cook 260 g long grain rice in about 560 ml water together with a tablespoon of butter and a heaped teaspoon of salt. As soon as it is cooked cool it under running water to prevent it sticking. Place in a dish with the chopped peppers and about three tablespoons of fresh chopped herbs [oregano, marjoram and chives all work well]. Pour the vinaigrette over the rice and peppers and stir. Cover and allow to stand at room temperature until required.
Before serving, garnish with small wedges of tomato.
Mangetout and New Potato Salad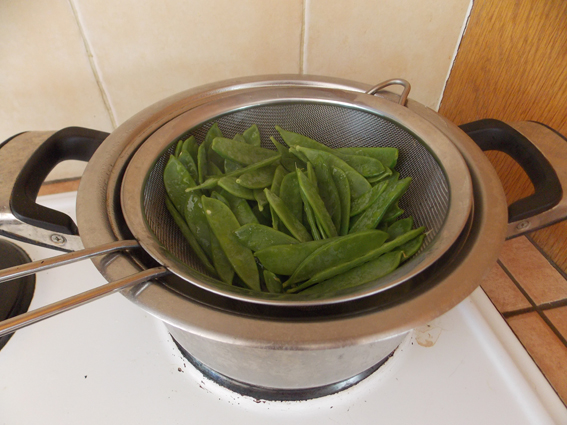 This is a deliciously different potato salad that has a touch of green and a really nice fruity dressing.
Start out by boiling about 450 g of new potatoes (started out in cold salted water). They should be cooked but not too soft. You don't want them to fall to pieces, so once you can push a skewer through them, remove from the heat and drench with cold water.
At the same time, steam the mangetout (snow peas) for about five minutes. They should still be a nice bright green colour but slightly crisp. Also drench them in cold water when they are cooked. Allow to cool and then slice them diagonally into 5 mm-thick slices.
When the potatoes have cooled, quarter them and toss them into a bowl with the mangetout peas and dressing.
To make the dressing you will need a tablespoon (15 ml) of either raspberry or strawberry vinegar which needs to be mixed with a teaspoon (5 ml) of soy sauce and about three tablespoon of (preferably homemade) mayonnaise. Mix well before smothering the potatoes.
Top with a few bunches of watercress and decorate with hibiscus flowers if you can lay your hands on any. They are said to have a citrusy, cranberry-type flavour, though not everybody likes to eat them.
Leeks in Blue-Cheese Dressing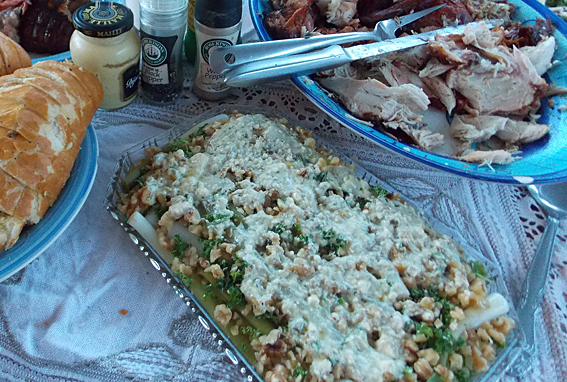 This is another ultra-simple but absolutely amazing salad that is so quick and easy you'll wonder why you don't make it for all special occasions. Served with a few slices of ham and fresh rolls it could also make a really fabulous light lunch or supper dish.
All you need are between 20 and 30 small, tender leeks – two bunches should do it, as well as walnuts, parsley, and vinaigrette mixed with blue cheese for the dressing.
To make the salad, start by washing and trimming the leeks and then cooking them in salted boiling water for 10 to 15 minutes, depending on their size. They need to be tender but still hold their shape. Drain, drench with cold water and leave to cool.
Arrange the cooled leeks in a shallow dish and sprinkle with 75 g chopped walnuts and 45 ml finely chopped parsley. Mix 150 ml of the vinaigrette you made previously and crumble 75 g of any mild blue cheese into it. Spoon over the leeks before serving.
Rocket and Mushroom with Herbs 
Based on an Italian salad known as Ruchetta ai Funghi, this is a lovely ploy for other dishes that are rich and heavy.
It's made with about a dozen large button mushrooms that are trimmed and then sliced quite finely.
Then mix the mushroom slices with about 90 ml to 100 ml of coarsely chopped rocket and other herbs, or even other small leaves (spinach, sorrel and Asian greens) as well as herbs like marjoram and origanum, parsley and sorrel. As you layer the salad, dribble a little good quality virgin olive oil over each layer, and then cover the mushrooms and herbs with about 175 g finely slivered Pecorina or Parmesan cheese.
Garnish with nasturtium leaves and flowers – they will add both colour and flavour.
Avocado and Mangetout Vinaigrette
Gorgeously green, this up-beat salad is a favourite in our family, particularly with me and my daughter, who once thought she was a vegetarian. It is a very seasonal dish that requires fresh asparagus, mangetout (snow peas), avocados and pine nuts (which are both expensive and very often difficult to find and fortunately can be left out without making a huge difference to the taste).
BUT, it's another very easy salad to make, and it'll wow your friends and family.
You will need to start by steaming both the peas and the asparagus. Quantities depend on your personal preference, but about 350 g of asparagus and 500 g mangetout works quite well. Both should be quite crisp and should be allowed to cool before you assemble the salad. You will also need soft lettuce leaves for the base of the dish; my preference is always butter lettuce. Spread the lettuce on a flat serving dish and cover with the greens, adding two avocados that have been peeled and pitted and chopped just prior to serving so that they don't turn black.
Splash garlic vinaigrette over the salad. This is made by squeezing fresh garlic cloves into the vinaigrette described above .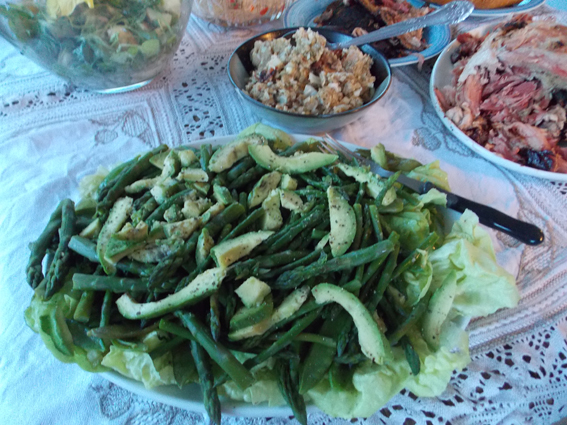 Lemon Tart and Vanilla Ice Cream 
I'm not a pudding person, but for special occasions I do sometimes try. This Christmas I decided that lemon tart was a worthy challenge, and I wasn't sorry.
All you need for this delicious lemon tart is a box of digestive biscuits (well maybe a couple more – 225 g is ideal); 130 ml of castor sugar; 125 g butter; two nice big lemons; and three large eggs.
You will also need 20.5 cm flan tin, pan or dish to cook the pudding in. And you might like to serve it with ice-cream and/or cream and other fruits. That's your call.
Before you start preheat the oven to 180 °C.
To make the crust break all the biscuits into small pieces and put them into a food processor or blender and crumble them. Pour the biscuit crumbles into a bowl and mix with 30 ml of castor sugar and 75 g of melted butter.
Grease the pan or tin and press the biscuit mixture inside. Chill the base while you prepare the lemon filling. It doesn't take long, though it will take a while to set.
Rinse the lemons and use a potato peeler to cut three nice long strips of rind from the lemons; then slice them finely into long, thin shreds. Place these into a very small pan and over with water; bring to the boil and allow to simmer until the rind gets soft (five to ten minutes). Drain and then toss in 50 g of the remaining castor sugar.
Grate the rest of the lemon rind (from both lemons) using the finest side of a grater. Also squeeze as much of the juice as you can from both lemons. Mix the rind, juice and 50 g of melted butter together and beat the eggs in together with the rest of the sugar. Pour this mixture into the pie crust (which should now resemble a flan case).
Check that the oven is up to temperature and bake for 25 minutes. When done remove from the oven and allow to cool in the tin or pan. Scatter the shredded bits of peel over the top of the peel and then refrigerate.
Serve chilled with vanilla ice-cream and enjoy.
Cheers until next year – but feel free to use these recipes to improve your salad experiences in the meanwhile.