Recipe Review: Not only for "Banters"
Fascinated by the incredible following Professor Tim Noakes, Sally-Ann Creed, Jonno Proudfoot and David Grier have had with their "Banting" diet and The Real Meal Revolution, I bought a copy of the book and have been trying out some of the recipes – mostly in my various Sola pans. 
The Lamb and Mushroom Blanquette, which is a rich, wholesome stew, was one of the first of The Real Meal Revolution (TRMR) recipes I tried – and so far, it's undoubtedly one of the best. It is also the only one I have cooked more than once. Featured on page 134 of the book, it has, I think, the wrong photograph illustrating it – but that's about the most serious fault I could find. Any other "faults" were mine.
As the authors' say in the intro to the recipe, this superb lamb stew is really really quick and easy. Very little prep, and no browning required. It does though take a good three hours to cook.
I've said it before, and I'll say it again, I almost always adapt recipes when I use them; and while I stuck fairly close to the original here (since I was reviewing it after all), I did make a couple of changes. The ingredients given here are what I used (I added half again of everything specified); I also threw in some sherry because there were only minimal juices in my pan after cooking for two-and-a-half hours as specified. If you're on the so-called Banting diet, do not add sherry, it's full of carbs; and do add the full quota of butter called for.
I hasten to add that in spite of my fascination with "Banting", I'm not strictly on a diet of any sort. However I have always eaten a fair amount of fat (like butter and yummy, crispy pork crackling or well-cooked fat on lamb chops), and have also been aware of the need to minimize carbs. I am also a strong believer in the power of exercise, and walk or hike regularly. But this post is about a lamb and mushroom stew, and not about me, my weight lose, diets or exercise regime. 
Ingredients for about 6 people
About 1 kg of lamb, cubed (TRMR calls for 600 g of lamb shoulder, which would be boneless, I used knuckles both times, and left the bone in)
3 large onions, peeled and halved
2-3 heads of garlic, cloves peeled and left whole (TRMR says two garlic heads, halved, and doesn't mention peeling. I tried this the first time I cooked it and the papery skin detracted – look for heads that have really big cloves to minimize peeling)
6 sticks of celery, coarsely chopped
freshly picked thyme and rosemary (the original recipe says five sprigs of each – I used more, and really big sprigs, because I have both flourishing in my garden)
750 ml chicken stock (or water mixed with three Stock Pot cubes)
375 ml dry white wine
75 ml cream
375 g white button mushrooms, whole or halved (depending on size)
About 3 tbsp butter (the original recipe calls for 200 g butter, and with my half-again ingredients, this would be 300 g)
About 250 ml or more of Old Brown Sherry – but only if you aren't on a strict LFHC diet!
Understand the Principle of a Blanquette
Essentially a blanquette is a ragout (a French main-dish stew that is cooked very slowly over low heat) made without browning either the meat or the butter.
Blanquette: The French term for a ragout of white meat (veal, lamb or poultry) cooked in a white stock or water with aromatic flavorings. Theoretically, the sauce is obtained by making a roux and adding cream and egg yolks. However, the roux is more often than not omitted. Blanquette had a very important place in historical cuisine and became a classic of bourgeois cookery." Larousse Gastromique
How to Make Lamb and Mushroom Blanquette ala TRMR
Plan your time carefully. The first time I cooked this, I failed (as I often do) to read the recipe all the way through, and went off to walk eight kilometers thinking it would only take about an hour to cook when I got home at 7 pm. Needless to say, it was a very late dinner.
If you want to eat at 7 pm, then preheat your oven to 180 deg C/350 deg F mid-afternoon so you can start cooking no later than 4 pm.
Then choose a suitable dish to cook the lamb in. You could use a roasting dish, a glass or ceramic casserole dish, or you could do as I did and use a Sola paella pan. It's nice and big (32 cm diameter) and has a glass lid. If you cook the quantities specified in the original recipe it might be a little too big, but for my version it is perfect. My only observation, as I have already mentioned, is that the liquid used reduced almost completely; it may not if a different type of cookware had been used. Also, the original recipe states that the "ovenproof casserole dish" should be covered with foil, which I did the second time just to see if there was a difference in the reduction. There wasn't. So next time – and there surely will be many more next times – I'll be using the Sola paella pan glass lid again.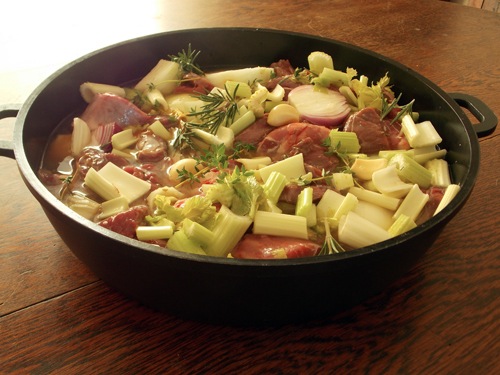 So let's start cooking.
Put the cubed lamb pieces, halved onions, coarsely chopped celery sticks, herbs, garlic cloves, chicken stock and dry white wine into your paella pan or ovenproof casserole dish.
You could add a little coarsely ground black pepper, but I didn't find that any additional seasoning was necessary.
Cover the casserole or pan with foil or a lid. Remember that if you use foil, the shiny side should be facing inwards to reflect the heat back onto the food. As an aside, I would have thought there would be less reduction with a glass lid. Comments about this are more than welcome.
Pop the casserole or pan into your preheated oven and allow it to cook for about two-and-a-half hours.
The original recipe says you should check the meat after the two-and-a-half hour period and if it isn't nice and tender, to continue cooking for another half an hour. I would suggest checking after two hours – depending of course on the quality of meat you are cooking.
When you are happy it is soft and tender, drain the liquid through a sieve into a pot. Then you need to reduce the liquid (if there is any), so that you are left with – the TRMR recipe says 400 ml – and for this reason I figured I needed about 600 ml. Having probably only about 15 ml of liquid left, I grabbed the Old Brown Sherry and threw in a lot of it to increase the liquid. I then let this reduce with whatever juices from the dish I had managed to sieve out.
I should probably add that I also removed the meat and veg from the pan and used the same pan to reduce the liquid – or should I say increase and then reduce the liquid? You could though use a clean pot of any kind.
Next step is to add the mushrooms and then the cream (as shown in the pictures above). This then needs to reduce back to about  the 400 ml or 600 ml – depending on what you are cooking. I have absolutely no idea what mine reduced to, but it worked and was delicious. I have watched enough MasterChef programmes on TV to know that a lot of other cooks who are much, much better than me also guess a lot.
Once you are happy with the way the sauce looks, feels and tastes, and the mushroom is cooked but not slushy and over-cooked, put the meat back with the mushrooms and the sauce. Add the butter and stir until it has melted and emulsified with the sauce.
Taste, and if you feel the need, add a little  salt and pepper (preferably pink Himalayan salt and freshly ground black pepper.)
Tim Noakes and co suggest serving with broccoli, which I did the first time. A salad is also a good idea. But it's a versatile dish and one that can be served with rice or potato (if you aren't on a diet), or with just about any veg you like.
It's also great with iced cold dry white wine. Enjoy!