Persona of a Winner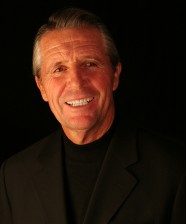 He wasn't competing in the Nedbank Golf Challenge held at Sun City in December 2011, but Gary Player was still able to quietly share his attitude, which is very definitely that of a winner.
According to one of the TV presenters commentating while stormy weather had briefly delayed play, he had got up early to hit some balls around, when someone stopped to talk to him. Politely he told the man that he was busy practising because he thought he'd just found a way to up his game!
Perhaps he was inspired by the Senior Challenge that was played for the second time – and at the same time – as the annual Nedbank Golf Challenge. Eight of the world's best "senior" (over-50) golfing stars were invited to play in the Challenge which offered significant prize money of US$880,000 (US$250,000 of which was the winners' purse).
The Sun City golf course was, of course designed by the legendary Gary Player, who is rated as the most successful international golfer of all time. Yet there he was, at 76 years of age, working on improving his game! And he wasn't even in the competition.
But then Gary Player is a true winner. Not only is he world class in his sphere of sport, he is also well known for his unwavering dedication to the principles of excellence. He has impeccable values, a scrupulous health and fitness regime, and he insists on the highest quality in all realms of his life. He has bred winning thoroughbred race horses at his stud farm in the Karoo. His Player Foundation has built schools and raised money for impoverished children. In addition to his sporting achievements, he was given the Laureus Lifetime Achievement Award for dedication to charity in 2003, and then three years later, he was presented with the Payne Stewart Award by the PGA Tour, in recognition of his philanthropic achievements.
But then Gary Player has the mindset of a true winner.
As the phenomenal American author, Napoleon Hill wrote in his best-selling Think and Grow Rich (first published in 1937): "A quitter never wins and a winner never quits."
Napoleon Hill was, of course, focused on acquiring wealth. However his concept may be used to achieve any goal in life. As he dogmatically states, "the starting point of all achievement is desire". You have to want to achieve something. You have to WANT to WIN. Having identified what you desire, you have to be persistent. "With persistence you will win," he says.
But it's not just going to happen. You're going to need a plan and the knowledge and skills to get where you want to go … to win. You may need to study, and you will need to practise your skills. For this you'll need will-power and the ability to keep at it. If you make persistence and positive thinking a habit, it will start to come naturally.
You can't simply wish for something and expect it to happen. Winners have the will to win. And they work at it constantly in every way they can. Certainly the power of positive thinking has a role to play. As Norman Vincent Peale in his incomparable book The Power of Positive Thinking (1952) taught, if your "wishes" are strong enough, and you have absolute faith in them, you can turn wishes into reality. But it takes a lot more than simply making a wish and dreaming.
Of course it's not always easy, and whatever it is you want to achieve, chances are it's going to take lots and lots of hard work. Any even when you have won – reached what you might consider the pinnacle of success – like Gary Player, you should keep on working at being a winner.